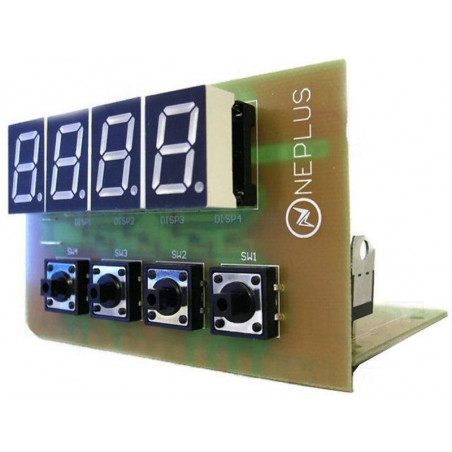  
KIT Programmable digital electronic thermostat -55-125C DS18B20 alarm relay
Digital electronic thermostat with DS18S20 probe and controlled relay output. It has a temperature alarm with integrated buzzer and data visualization on a 4-digit 7-segment LED display.
Secure payments
You can pay safely by Card, PayPal, Amazon Pay or Bank Transfer
Delivery policy
Express shipments with DHL, BRT, GLS
Return policy
You have 15 days from delivery to return the product if you are not satisfied
Attenzione, il prodotto è un KIT e pertanto vi verranno consegnati i componenti da saldare con l'ausilio di un saldatore per elettronica e tutto l'occorrente per ricreare l'apparato come da immagine. Nel KIT sono comprese istruzioni illustrate in lingua inglese di facile comprensione.
Livello esperienza richiesto per il montaggio: ALTO (componenti SMD e PTH da saldare)
A richiesta possiamo montare noi per voi il prodotto al prezzo aggiuntivo di 30€ iva inclusa.
ATTENZIONE: Istruzioni in lingua inglese e polacca, schemi e circuito comunque comprensibili da chi conosce la componentistica elettronica.
Termostato elettronico digitale con sonda DS18S20 e uscita relè controllata. Dispone di allarme temperatura con buzzer integrato e visulizzazione dei dati su display LED 7 segmenti a 4 cifre.
Funzionamento a 12V AC o DC, possibilità di alimentarlo a 230V tramite trasformatore 230V->12V (non incluso).
Setpoint temperatura selezionabile tra -30°C a 120°C per controllo relè

Soglia temperatura allarme selezionabile tra -30°C a 120°C per attivazione buzzer allarme (possibilità di selezionare se andare in allarme alla temperatura inferiore o superiore)

Allarme su temperatura superiore o inferiore temperatura di SET

Alimentazione a 12V AC/DC o 230V AC (tramite l'uso di un trasformatore esterno, NON INCLUSO)

Consumo a 12V massimo 1,2W (con relè attivo)

Isteresi temperatura selezionabile tra 0,2°C e 10°C

Gestisce temperatura di setpoint e soglia allarme

Gestione completamente digitale grazie ai pulsanti di controllo, al sensore digitale di precisione DS18B20 di tipo OneWire e al display a 7 segmenti con 4 cifre
ATTENZIONE IMMAGINE INDICATIVA DEL PRODOTTO, I COMPONENTI POSSONO VARIARE, FARE AFFIDAMENTO AD IMMAGINE PRINCIPALE
Necessiti dell'alimentatore? Li trovi qui: EBAY | MECTRONICA STORE
SPECIFICHE
Temperatura misurabile da -55 a +125°C

Sensore temperatura digitale incluso DS18B20 con comunicazione OneWire

Precisione di 0,5°C tra -10 e +85°C, per il resto del range 2°C

Accuratezza misura 0,1°C

Nessuna calibratura necessaria

Temperatura SETPOINT termostato regolabile da -30°C a 120°C con controllo relè uscita

Allarme sopra o sotto il valore impostato come set allarme regolabile da -30°C a 120°C

Allarme acustico su buzzer

Uscita relè 8A 250V normalmente aperta

Display LED 7 segmenti a 4 cifre con punti decimali

Dimensioni scheda display 53 x 85,5 mm, scheda controllo 57,5 x 85,5 mm

Scheda display e controllo unite tramite saldatura o cavo flat (non incluso)
Disponibile a richiesta montaggio a 30€ iva inclusa.