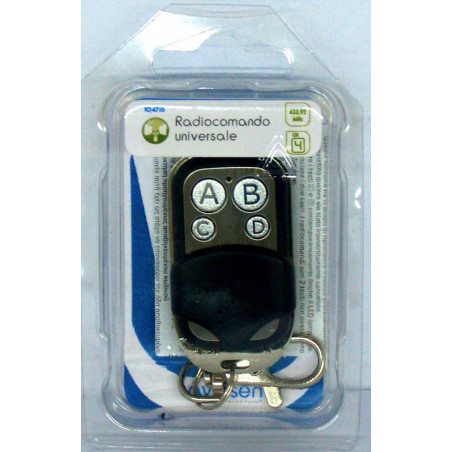  
Universal 4-channel remote control with self-learning 433.92 Mhz Avidsen
Universal 4-channel remote control with self-learning 433.92 Mhz Avidsen
Secure payments
You can pay safely by Card, PayPal, Amazon Pay or Bank Transfer
Delivery policy
Express shipments with DHL, BRT, GLS
Return policy
You have 15 days from delivery to return the product if you are not satisfied
With this remote control it is possible to record up to 4 independent radio commands coming from other single or multiple channel remote controls in order to duplicate and clone them in a simple and immediate way.
The copying procedure is completely automatic without setting any code, in fact to copy a remote control simply place it next to the point near the antenna to record a radio command for each of the 4 channels using a combination of keys. It supports all common FIXED CODE encodings (set via dip switch in the original remote control) used in the remote controls of gate openers, boxes, automations and more. The operating frequency is 433.92 Mhz.
It is also possible to control the activation / deactivation of 2 radio-controlled sockets or alternatively the activation or deactivation of 4 radio-controlled sockets ( Avidsen , GooBay ...). In case of doubts about the support of your remote control it is strongly recommended to contact us before making the purchase.
SUPPORTED CODES:
Motorola
HT12
UM3750 / MM53200
SC2262 / SC2272
PT2262 / PT2272
Generic codes of open-gates, boxes, shutters with FIXED code
DOES NOT SUPPORT ROLLING CODE CODES like KeeLoq.
SPECIFICATIONS:
Channels: 4

Working frequency 433.92 Mhz

Transmission / learning indication LED

Replaceable internal battery 12V 27A / MN27

Internal antenna

Hook for key ring attachment

Solid and resistant structure
Customers who bought this product also bought: