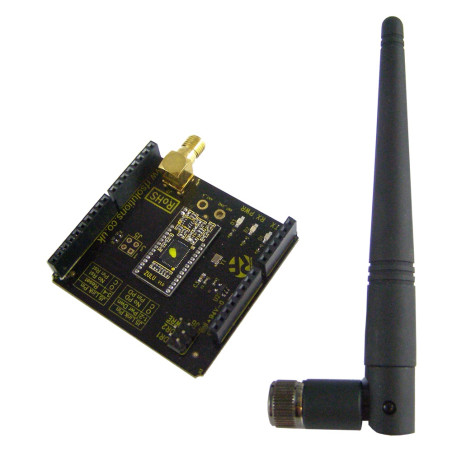  
KIT ZULU UNO ARDUINO RADIO MODEM serial data link upto 2KM
Secure payments
You can pay safely by Card, PayPal, Amazon Pay or Bank Transfer
Delivery policy
Express shipments with DHL, BRT, GLS
Return policy
You have 15 days from delivery to return the product if you are not satisfied
Attention, the product is a KIT and therefore you will receive the components that you will have to weld with a soldering iron for electronics and everything you need to recreate the device as shown in the image. The KIT includes easy-to-understand illustrated instructions in Italian.
NECESSARY EXPERIENCE LEVEL medium
Assembly and testing by Mectronica STORE is also available by adding quantity 10 of the KIT assembly service which can be purchased by searching for it in our portal and adding it to the cart together with the KIT to be assembled in the quantity described.
ZULU Arduino provides a radio link (modem) with a simple interface for a range of up to 2km. The range can be further extended with a suitable antenna.
All RF operations are self-controlled (with error checking, etc.) so that ZULU Arduino can be treated as a simple communication device. This screen is also compatible with the Blizzard RF Solutions modem.
The shield is ready for plug and play with the serial port default set to 4800, 8 bits, no parity, 1 stop bit (hardware CTS / RTS).
You can find an example of coding.
USEFUL LINKS MANUAL | EXAMPLE SOFTWARE
Operational overview
The ZULU MODEM module provides a simple modem interface to the host controller. It handles all RF data communications automatically and without any obligation on the part of the user (RF packaging, preamble, coding, CRC check, etc.).
With this powerful high-speed radio link.
The following networks can be realized
·         One to one operation ; for point-to-point data communication.
·         One to many ; A network made up of a master and many slaves (all receivers have the same address).
·         Many to one ; Where all transmitters send to a single receiver address. Since each ZULU MODEM can contain a unique address, multiple ZULU networks can coexist in the same area.
·         Broadcast transmission operations ; Where a single Zulu MODEM master addresses many ZULU MODEMs at the same time. (using multiple ZULU MODEM modules set at the same address).
Operating modes:
·         Configuration mode: in configuration mode the Zulu MODEM can receive a number of commands and the internal registers can be preset to control its operation. In this Zulu MODEM mode is "Offline" and cannot send or receive RF data.
·         Normal operation : ZULU MODEM is "Online" which automatically transmits and receives data from its host and through the RF network.
Each ZULU MODEM has its own preset address. This is set by the user during configuration. All received data is examined and the address header incorporated into the data packet is compared with his address. Only the data received with corresponding address will be processed and sent to the host, all other data will be deleted.
All ZULU MODEM modules are shipped with a default address of 7F7F7F.
The MODEM ZULU contains an on-board data buffer equal to two data packets. Therefore, if RTS is claimed (so the host is unable to receive data), the module will store a maximum of two data packets, all other received data packets will be discarded.
Module Technical Information
| | |
| --- | --- |
| PART | ZULU-M-Arduino |
| TYPE | MODEM |
| FREQUENCY | 868MHz |
| VCC | 5V |
| DATE RATE | UP TO 56Kbps |
| O / P | UP TO + 20dBm |
| APPLICATION | Radio Modem Serial Data Link |